The Covid-19 pandemic has left no business untouched, and the HVAC industry is no exception. As we work to contain and eliminate the virus, businesses must adapt to the meet the challenges of the post-Covid era. And the way to grow your HVAC business and see it thrive is to identify the opportunities and potential of these uncertain times.
We've got seven tips to help your business not just navigate the post-Covid era, but to continue your growth and boost your profitability:
1: Update your business plan
When you started your business, you would have created a business plan as a blueprint for the launch and for your business model. You should continually refer to this plan to make sure you're on track with your business goals. Now is the time to review it and update it so that it's relevant for the 'new normal' - specifically that it's customer focussed. Which brings us to the second tip...
2: Enhance the customer experience
HVAC technicians provide comfort. They enable their customers to live in comfortable homes and work in pleasant workplaces - and this is of major importance. In an unofficial man-on-the-street survey conducted by AHRI, 10 out of 10 people said they would give up their phone before they would give up their air conditioner. And although this poll was taken in the US, it's clear that the HVAC industry provides a vital service to Australians too. But to really gain a competitive edge, you need to be sure you're also providing a top-level customer experience.
Follow up after every service call to ensure the technician they dealt with was punctual, courteous, knowledgeable and that they worked swiftly. Ask if there's anything they can do to improve, or if the customer had any negative experiences.
You could even consider creating a customer self-service area on your website, one that allows them to flexibly book appointments on your calendar.
3: Harness technology to automate as much as possible
Even if Covid-19 hadn't happened, businesses across all industries are adopting technology solutions to streamline their workflows and processes, gain efficiencies, become more productive and offer a modern, up-to-date customer experience.
For HVAC businesses, digitisation can streamline most manual administrative tasks. For example, a Customer Relationship Management (CRM) system will enable you to keep track of old and new business, to maintain your customer database and find more opportunities.
Automate daily operations with field service and scheduling software to gain efficiencies. For example, scheduling software provides dispatch and fulfilment tools to improve staff efficiency and increase service reliability.
The more you make use of technology, the better placed your business is to engage your customers through digital devices, and the smoother it will run if you automate wherever possible.
4: Ensure your compliance is up to date
Stay up-to-date on the latest local and national guidelines that govern the HVAC industry. One of the fastest ways to damage your reputation is to be known as someone who's not compliant with regulations. Undertake safety analysis procedures and risk assessments, and continually refer to the Safe Work Australia website so you're aware of any changes.
Once you know and understand your obligations, you will need to find a way to manage safety onsite at every job. And although it is not 100% full proof, software that builds Job Safety Analysis (JSAs) into the workflow is probably the best way to keep your records of compliance and any breaches.
5: Use digital strategies to source new leads and grow
Everyone's online these days, and that includes your customers. Make sure your business website has good SEO, and keep it updated with content from within the HVAC industry.
Offer helpful tips - "Five common air conditioner faults and how to fix them" - or even DIY videos. Use Google My Business to register your services and ensure you're found online. Make use of social media platforms - like Facebook and Twitter - so that you can keep in touch with your customers and engage with them.
6: Adopt a flexible sales strategy
These are uncertain times for your customers as well as your business. Keep that in mind when you're developing your sales strategy. Consider offering loyalty rewards and flexible payment options. Identify the most popular services that you offer and how you can position them in a way that makes your customers happier and boosts your profits.
7: Keep your skills sharp
It's essential to keep learning. HVAC technologies are continually evolving, and it's crucial to keep up with them. Make sure you're not falling behind when it comes to technical best practice, tools and systems.
It's a good idea to join HVAC industry bodies like AIRAH. They provide opportunities for networking and keeping up to date with what's happening in the sector – it's a great way to keep up to date with the latest technical developments too.
Online resources like HVAC School offer resources like quizzes, podcasts and videos showing important processes and skills. Even quick online refreshers can make a difference in the service that your business provides. If you can demonstrate to your customers that you're up to date with the latest developments in the industry, it will enhance your reputation and boost word-of-mouth advertising.
Although there will always be a demand for HVAC services and installs, it's still important for HVAC business owners and managers to remain flexible and adapt to a new way of doing things in the post-Covid era. A successful service business, in this competitive field, is one that's always looking for ways to improve, to be more productive and to make the most of technological advances in order to stay ahead of the curve.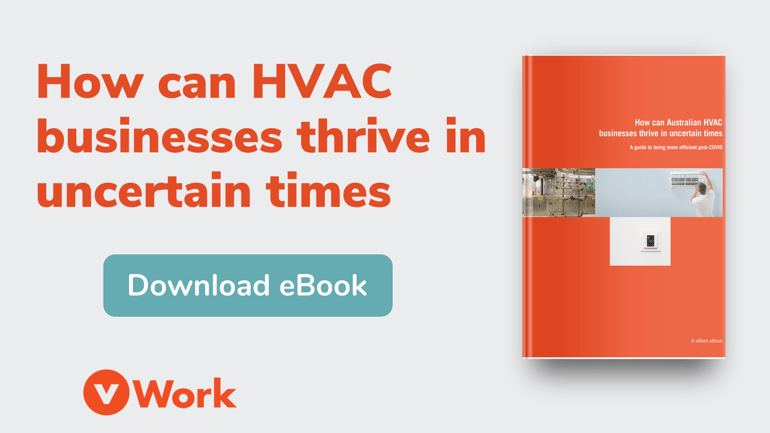 If you'd like to learn more about how to grow your HVAC business in the 'new normal', download our new eBook, How can HVAC businesses thrive in uncertain times. And if you'd like to see our software in action, book a demo today.