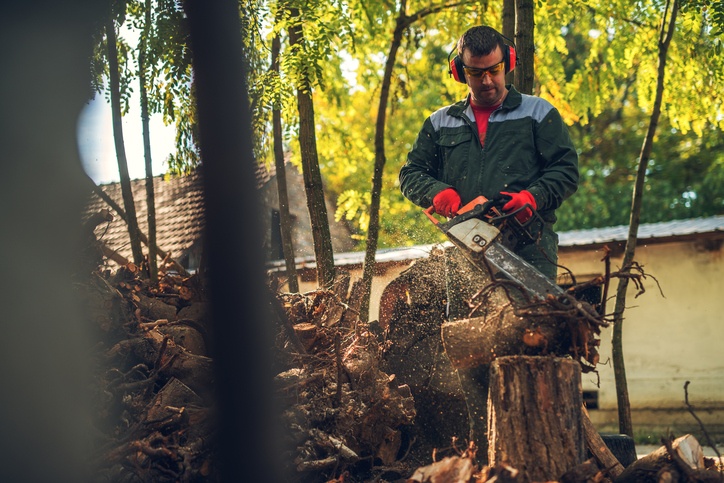 As your business grows, you need to be ready to manage the health and safety of more landscapers out on the tools. A lack of visibility, automation and communication between teams can leave you and your staff open to unnecessary risk.

vWork has built-in safety features that allows you to can customise for your workforce, jobs and individuals. This ensures that hazards, accidents and incidents are accurately recorded so that you can better protect your people. In this blog, we take you through a quick overview so you can see how workforce management software helps keep your landscapers safe.
Highlight known hazards to workers before they arrive onsite
Workforce management helps you match the right workers with the right skills and training to the right jobs. This in itself ensures that your landscapers won't be in a position to pick up a tool or chemical they haven't been trained to use. Workforce management software allows you to assign specific tags so you can be sure that qualifications match the job in hand. You can even track certifications that require regular renewals such as first aid.

We wanted to give you more than this. Since your field workers have mobile devices, we think they can be put to good use. In our app, we created specific health and safety features and customisable templates to help you keep track of new hazards and avoid accidents and unmitigated risk.

The health and safety features in vWork allow you to inform your landscapers of any known hazards at their jobs before they arrive onsite. In turn, this allows them to acknowledge and be prepared for those risks, ensure precautions have been taken and report back on new hazards, incidents and accidents in real-time, wherever they are.
What are the hazards?
You're well aware of the risks that come with landscaping work. Hopefully, your staff are too. But how can you be sure they truly acknowledge the risks and act accordingly? Landscapers need to be aware of a variety of risks from ergonomic to biological, chemical and more. Typical hazards include:
Wasp nests, pests and dangerous animals
Overhead hazards (e.g. loose roofing or branches)
Electrical hazards (e.g. exposed wires, outlets and tools)
Heat stroke risks
UV exposure
Noise
Vibration of tools
Chemical exposure - especially pesticides

We built a Hazards feature to help you manage this. Hazards templates allow your workers to identify and record hazards on the fly. But recording hazards only works if your landscapers actually read about them. That's where technology can help. By attaching hazards to a job, you can ensure your workers not only read them but actively acknowledge them with a digital signature before they start the job.

You can also add what actions, protocols and procedures should be followed. For example, if you're aware of a loose branch hanging over the work area, you might require a high-vis barrier be set up until you can get your tree surgeon there to fix it.
Health and safety is more effective when it's made simple
Here's a quick rundown of the three main components within the vWork health and safety feature. Each element is easy, quick to use and customisable to your business.

vWork Health and Safety feature has three components: events hazards and tags. These are all recorded and can trigger alerts between the field, dispatch and other teams.

Health and safety events: You record all the event details you can define these events to suit your business. They can alert anyone and generate flexible reports.

Hazards: Workers and dispatchers can log hazards on the fly. Add as many as you like at any time. Before they start work, your landscapers must acknowledge hazards on their mobile device.

Tags: Use tags to identify worker skills or certifications. Tags can prevent dispatching the wrong people or tools to a job, hence minimising the risk of a worker taking up a task for which they're not trained.

With vWork's safety features, you'll help reduce incidents and accidents over time. Learn more about how vWork benefits landscaping businesses here.