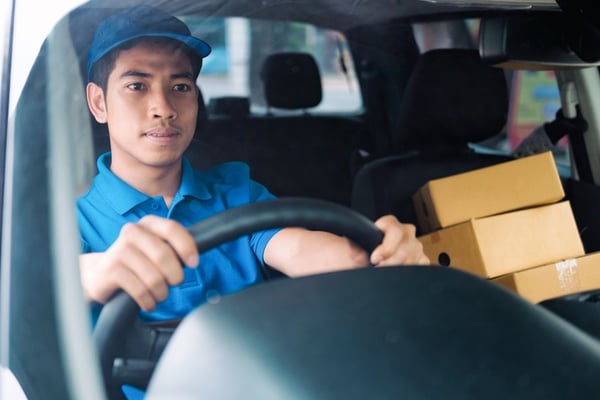 Transport businesses face multiple barriers to growth. Customer expectations are changing and to meet their demands, you need to innovate. To grow a transport business you need to overcome the challenges specific to your industry.
But every challenge presents an opportunity. If you can overcome the obstacles that your competitors can't, you'll be ahead of the retention and growth game.

In this blog, we take a look at the five common barriers to growth transport businesses face, and how workforce management (WFM) can help.
1. Increasing fuel expenditure in transport
Managing your fuel costs is a tricky business - it might feel that there's no way around the rising prices. And, if you want to grow, you can expect to spend more. But projecting the increase isn't as cut and dried as you might expect; which is a good thing. Instead of multiplying your current expenditure by x% growth, you can implement a strategy that cuts your current expenditure -- leaving you more room to grow organically.
WFM software gives you greater visibility so you can see the inefficiencies in your fuel expenditure. Are your drivers idling in traffic for too long? Could you get more drops per route and reduce overlap? With WFM software, you can improve route-planning and delivery scheduling without increasing customer waiting times.
2. Disparate transport data and business analysis
Building a growth strategy on guesswork simply won't cut it. Luckily, there's no need for guesswork if you have good data processes. But if you still have disparate data systems and manual processes, it's likely you're not getting the most out of the information on offer.
Gathering data is one step in the right direction. Next, you need to be able to draw conclusions from that data. With WFM software, you can collect data across your network in one platform. No more silos, paperwork and lost information as it's passed from one person to the next. You can create custom reporting so that you get the analytics you need, when you need it.
3. Outdated transport technology
Lagging technology slows your whole network. It hinders data gathering, reporting and visibility when it should be doing the legwork.
To effectively manage performance across the business, you need the right IT infrastructure in place. The process of implementing new systems may sound sound like a big project, but you may be surprised to learn that this isn't necessarily the case. If you already have mobile hardware out in the field, it's a simple case of finding the best way to use that resource. The best WFM software integrates with your existing systems and uses the cloud - so you don't have to invest in hardware upgrades or costly implementation projects
4. Keeping up with transport consumer demands
As consumer choice increases, retention gets tougher. With instant access to alternative services, consumers are just a few taps away from switching loyalties. If your service hasn't met their expectations, you can expect them to go elsewhere, fast.
Research shows that failing to deliver an excellent customer experience is highly damaging to loyalty:

"A customer is four times more likely to buy from a competitor if the problem is service-related, versus price or product-related." – Bain & Co.

"89 percent of consumers have stopped doing business with a company after experiencing poor customer service." – RightNow Customer Experience Impact Report
"32% of field service organizations (FSOs) are failing to attain at least 80% customer satisfaction." - Raconteur Digital Change Survey
Where others are failing to retain loyalty, there are consumers ready to become your customers. If you're ready to adapt with WFM software, you can turn these barriers into a competitive advantage.
5. Old processes
Processes can become so ingrained in your business that it's hard to make the necessary changes. If your old processes are holding you back, you need to identify what's not working and make a plan. For process changes that last, you'll need:
Strong top-down communication
Stakeholder and staff buy-in
Deadlines and milestones you can stick to
Staff training and support
Ongoing process reviews
Changing processes need to stop being a one-off project every few years and start being an agile, ongoing cycle. Once you have this in place, you'll be ready to amend and tweak processes on the fly. This reduces downtime and ups your company-wide productivity.
Do you want to turn these obstacles into advantages? vWork can help you to optimize routes, notify customers and collect customer satisfaction ratings to find out how, download our FREE eBook